SOCIO-SPATIAL DESIGN and THE TRANSFORMATION OF URBAN-RURAL CHINA
社会空间设计与中国城乡转型





英国建筑联盟学院(Architectural Association)携手英国皇家艺术学院(Royal College of Art)到访上海,与上海交通大学合作,联合虹梅庭公益服务中心、创鑫汇以及建筑东西共同举办系列中英交流活动。12月9-10日,中国,上海。

系列活动以最开放的态度邀请大家参与,不收费不注册,只要你能找到上海交通大学工程馆和华鑫慧享中心,你就能来参加。

Download Full Programme and Event Guide






SYMPOSIUM
SOCIO-SPATIAL DESIGN AND THE TRANSFORMATION OF URBAN-RURAL CHINA
社会空间设计与中国城乡转型

Date: Saturday 9th December 2017
Time: 9:00-12:00 and 14:00-18:00
Venue: Room 315, Engineering Hall, Xuhui Campus, Shanghai Jiao Tong University
上海交通大学徐汇校区工程馆315室

Organiser: Architectural Association School of Architecture (AA), Royal College of Art (RCA) and Shanghai Jiao Tong University (SJTU)


The symposium will discuss how historical spatial development forms in China – such as the urban danwei and worker's new village or rural people's commune and Third Front – are an important contemporary heritage of urban form and Chinese modernity. Current problems of neighbourhood transformations and urbanisation in China can be understood in relationship to these historical developments. The symposium will consequently also debate the significance of this spatial heritage to urban design and planning theory, history and practice, and how spatial design has been instrumental to shape a sense of community and place. This discussion is framed through three contexts critical to understanding contemporary urban design in China: the history of communal spatial development models; socio-spatial changes in urban and rural developments; and changing models of urban-rural governance. Therefore, a key question arises: how are these socio-spatial developments critical to formulating a new interdisciplinary urban design practice and theory in China?

会议探讨近现代中国空间发展模式如何作为当代遗产塑造与影响中国城乡形制与现代性,并进一步审视这些"空间遗产"在城市设计理论、历史与实践、空间设计与社区/场所塑造方面的意义。会议的讨论框架定位于中国当代城市设计的三大背景环境:社区空间模式的历史演变;城乡发展中的社会空间变化;以及,城乡治理模式变迁。由此,当下中国街区更新转型和城市化进程中的问题与挑战可以从它们与历史发展模式的关系切入。继而,提出核心问题:这些社会空间模型如何系统性地建构一种新的跨学科城市设计实践方法与理论?


Organisers:

The Architectural Association School of Architecture (AA) in London, founded in 1847, is the oldest independent school of architecture in the UK and one of the most prestigious and competitive in the world.

英国建筑联盟学院成立于1847年,是英国最老的独立建筑教育院校,其开放的教育模式与先锋的思辨确立了其在当代全球建筑文化讨论与发展的领袖地位。

The Royal College of Art (RCA) is the world's only wholly postgraduate art and design university. It is renowned for teaching and incubating real-world innovation and is ranked the world's number one university of Art and Design in the 2015, 2016 & 2017 QS World University Rankings.

英国皇家艺术学院是世界级的研究制艺术与设计院校,也是历史最悠久的艺术与设计教育机构之一。在QS世界大学排名 '艺术设计类' 大学排名中,皇家艺术学院至今已连续多年蝉联全球第一位。

Shanghai Jiao Tong University (SJTU), founded in 1896, is a key university directly under the administration of the Ministry of Education (MOE) of the People's Republic of China. SJTU has become a comprehensive, research-oriented, and internationalized top university in China.

上海交通大学是中国教育部直属的全国重点大学。经过121年的不懈努力,上海交通大学已经成为一所"综合性、研究型、国际化"的国内一流、国际知名大学。


Programme:

9:00–9:15 Introduction
Dr. Wenbing FAN 范文兵 (Associate Department Head of Architecture, Associate Professor, Shanghai Jiao Tong University)
Dr. Sam Jacoby (Director, AA Projective Cities)

9:15–9:45
Dr. Sam Jacoby (Director, AA Projective Cities)
'Socio-spatial and Urban Design of Housing'

9:45–10:15
Prof. Li HOU 侯丽 (Professor of Urban Planning, Tongji University)
'Building Beyond Oil: Chinese Cities and Countryside Under the Daqing Model'

10:15–10:45
Prof. Youwei XU 徐有威 (Professor at the Department of History, Shanghai University)
'The Housing Problem of Chinese Workers: Small Third Front as the Centre, 1960-90s'

10:45–11:15
Dr. Zhiyong LIANG 梁智勇 (Post-doctoral Fellow, University of Hong Kong)
'The Continual Modernising Mission: From Village for Commoners to Workers' New Village'

11:15–12:00 Morning Q&A Session

12:00 –14:00 Lunch Break

14:00–15:00 Keynote Lecture:
Prof. Duanfang LU 卢端芳 (Professor of Architecture and Urbanism, University of Sydney)
'Urbanisation through Collective Forms'

15:00 –15:30
Jingru Cyan CHENG 程婧如 (AA PhD by design Candidate)
'Radical Settlement: The Architecture of the People's Commune'

15:30 –16:00
Prof. Wansheng XIONG 熊万胜 (Professor at the Social and Public Administration School, East China University of Science and Technology)
'A Sociological Explanation of the Rural Settlement'

16:00 –16:30
Ning OU 欧宁 (Curator and Artist)
'The Collective Eye: Bishan and Other Places'

16:30 –17:00
Dr. Platon Issaias (Studio Master, AA Projective Cities)
'Collective Equipment as a Device for Urban Design'

17:00 –18:00 Concluding Round Table Discussion
Chair: Dr Tarsha Finny (Programme Lead, City Design, RCA, RCA)



---


WORKSHOP
DESIGN RESEARCH IN ARCHITECTURE
设计教学交流工作坊

Date: Sunday 10th December 2017
Time: 9:00-12:00
Venue: Room 315, Engineering Hall, Xuhui Campus, Shanghai Jiao Tong University
上海交通大学徐汇校区工程馆315室

Organiser: Architectural Association School of Architecture (AA), Royal College of Art (RCA), Shanghai Jiao Tong University (SJTU) and ACROSS Architecture


The workshop is for students, young scholars, and academics to discuss approaches to design research in architecture and urban design. The workshop is complementary to the symposium and the forum in the afternoon.

中英双方老师与学生分享当下设计教学关注的课题以及教学研究方法。工作坊以轻松的交流模式为主,欢迎学生和青年学者积极参与讨论。工作坊与本次系列活动中的国际会议以及城市/建筑实践论坛互为补充。


Co-Organiser:

ACROSS Architecture is an independent, academic association founded in London by Architectural Association School of Architecture (AA) Chinese alumni as well as current students, and dedicated to establishing a sharing platform between the East and the West on both research and practice in the field of architecture and city.

"建筑东西"成立于英国伦敦,是由英国建筑联盟学院的毕业校友和在读学生共同组建的独立学术与实践联盟,致力于在东西方文化的碰撞中构筑连接学术与实践领域的思想交流平台。


AA&RCA:

Dr. Sam Jacoby (Director, AA Projective Cities)
Dr. Tarsha Finney (Programme Lead, City Design, RCA)

Gianna Bottema and Huajing WEN 温华婧 (MPhil Projective Cities candidate, AA)


Shanghai Jiao Tong University:

Dr. Lu FENG 冯路 (Guest Design Tutor, Shanghai Jiao Tong University; PhD, University of Sheffield)
Dr. Yongkang CAO 曹永康 (Associate Professor, Shanghai Jiao Tong University)

Mingdi ZHOU 周铭迪, Siyu ZHENG 郑思宇, Lu LI 李潞 (5th Year, Architecture, SJTU)


China Academy of Art:

Ruohong WU 吴若鸿 (AA Dip.; Tutor, China Academy of Art)
Zhenhang HU 胡臻杭 (AA EmTech; Tutor, China Academy of Art)


Discussion Panel:

Xin WANG 王欣 (AA DRL; Tutor, University of Nottingham Ningbo China)
Yuwei WANG 王禹惟 (AA M.Phil; Tutor, University of Nottingham Ningbo China)
Jingru Cyan CHENG 程婧如 (Co-Director, AA Wuhan Visiting School)
Zhiyong LIANG 梁智勇 (Post-Doctoral Fellow, University of Hong Kong)
Ning OU 欧宁 (Curator and Artist)



---


FORUM
Architectural Urbanism
Interdisciplinary Urban Design Challenges
建筑城市主义:跨界实践


Date: Sunday 10th December 2017
Time: 15:00-18:00
Venue: Huaxin Conference Centre, No. 142 Tianlin Road, Xuhui District, Shanghai
华鑫慧享中心,上海市徐汇区田林路142号 (穿过田林路142号入口进入园区内部)

Organiser: Royal College of Art (RCA), Architectural Association School of Architecture (AA);
Hongmei Home Commonweal Service Centre and Chuang Xin Hui


The forum is a discussion between practitioners, stakeholders and academics about the contemporary challenges of urban design. Emerging in the 1960s in the USA and adopted in China since the mid-1990s, urban design is historically understood as an interdisciplinary practice of architecture, landscape architecture and city planning. The importance to understand cities and their design in multi–scalar and multi-disciplinary terms is today even more important, given the extent and complexity of global urbanisation. In China, as elsewhere, urban design is to provide design guidelines capable of integrating the diverse needs of local communities into sustainable large urban plans. But significant differences remain in how urban design in China deals with challenges of place-making, needs of local communities, and scale. Imported Western design models have not always translated well into a context with different urban, economic and social organisation and histories. Therefore, the forum will discuss how urban design has to develop a better understanding of local contexts and a broader multi-disciplinary approach that integrates urban sociology, social policy, public welfare and governance, as well new economies, lifestyles and real-estate development models in order to cross established disciplinary, methodological and cultural boundaries.

论坛邀请建筑与城市设计实践者、学者、以及城市发展进程中的相关方共同讨论当代城市设计挑战。城市设计这个概念1960年代在美国提出, 最初试图将建筑、景观和城市规划这些学科串为一体,于90年代中期被引进中国。 在当下复杂的全球化进程中,从多尺度、跨学科的角度理解城市设计变得愈发重要。无论国度,城市设计的意义在于提供设计指导,用以整合地方社区的多样性需求和可持续的城市蓝图。实践这一目标的方式有很多,但完全引进西方模式未必适用于中国特殊的城市、经济、社会组织状况。因此,论坛旨在讨论如何在城市设计实践中更好的理解地域文脉和采用更广阔的多学科视角,以整合城市社会学、社会政策、公共福利和管理、经济发展、生活方式以及地产发展模式,从而跨越既有的学科、方法和文化藩篱。


Co-Organisers:

Hongmei Home Commonweal Service Centre is supported by the local party committee and government to foster collaborations between social and economic groups and build a 'Community- Hi-Tech Park-Enterprise' circle.

虹梅庭公益服务中心,在徐汇区虹梅街道党工委的支持下,致力于推动区域经济和社会领域的跨界合作,建立"社区—园区—企业"为共同体的慈善公益生态圈。

China Fortune Properties is a real-estate developer, who is committed to providing integrated spatial solutions to emerging industries, and becoming one of the driving forces behind urban regeneration through smart industry communities.

华鑫置业致力于成为智慧产业社区的开发商与运营商,城市更新的践行者,一个为新兴产业空间发展提供整体解决方案的产业地产商。


Presenters:

Yapeng Pu 蒲亚鹏 (Committee Secretary of the CPC, Hongmei Sub-district Office, Xuhui District, Shanghai 上海市徐汇区虹梅街道)
Yu CAO 曹宇 (General Manager, China Fortune Properties 华鑫置业集团)
Dr. Xia MO 莫霞 (Director, Urban Renewal Research Centre, East China Architectural Design & Research Institute 华东建筑设计研究院)
Dr. Lu FENG 冯路 (Principle, Wuyang Architecture 无样建筑; PhD, University of Sheffield)

Dr. Sam Jacoby (Director, AA Projective Cities)
Dr. Tarsha Finney (Programme Lead, City Design, RCA)
Dr. Platon Issaias (Studio Master, AA Projective Cities)


Discussion Panel:

Lei CAO 曹蕾 (Director, Hongmei Sub-district Office, Xuhui District, Shanghai 上海市徐汇区虹梅街道)
Zhongnan YE 叶钟楠 (Vice Director, Centre for Regional Development and Urban Design, East China Architectural Design & Research Institute 华东建筑设计研究院)
Cong JIA 贾丛 (Research & Development Department, China Fortune Properties 华鑫置业集团)
Xin WANG 王欣 (AA DRL; Founder, Bfun Design)
Yuwei WANG 王禹惟 (AA M.Phil; Founder, Xframe Studio)
Zhiyong LIANG 梁智勇 (Post-Doctoral Fellow, University of Hong Kong)
Ning OU 欧宁 (Curator and Artist)
Yuhong ZHAO 赵玉宏 (Ambassador, TEDx China Region)


Chair:
Jingru Cyan CHENG 程婧如 (Co-Founder, ACROSS Architecture )


---


SPEAKER BIOS

Duanfang LU is Professor of Architecture and Urbanism in the Sydney School of Architecture, Design and Planning at The University of Sydney. She holds a BArch from Tsinghua University, Beijing, and PhD in Architecture from the University of California, Berkeley. She has published widely on the history and theory of modern architecture and urbanism, and her work has explored various interdisciplinary intersections. Her main publications include Remaking Chinese Urban Form (2006) and Third World Modernism (2010). Her edited book The Routledge Companion to Contemporary Architectural History will be published in 2018. Lu is Principal of GZ Architects and has extensive experience in architectural design and neighbourhood planning.

Sam Jacoby is a chartered architect with an AA Diploma and a doctorate from the Technical University Berlin. He is currently Director of the MPhil in Architecture and Urban Design: Projective Cities at the Architectural Association School of Architecture, a researcher at the Royal College of Art, and a lecturer at the Anhalt University of Applied Sciences. Jacoby has worked for architectural and planning offices in the UK, Germany, USA, and Malaysia. He is author of Drawing Architecture and the Urban (2016), guest-editor of the special journal issues 'Type versus Typology', The Journal of Architecture (2015) and 'New Design Research in Architecture and Urban Design', Urban Flux (2015), and co-editor of Typological Formations: Renewable Building Types and the City (2007).

Li HOU is Professor of Urban Planning at the College of Architecture and Urban Planning, Tongji University. Her scholarship addresses issues of history of urban planning in modern China with a particular attention to the relationship of industrialization and urbanization, the development of urban planning as a discipline, as well as urban-rural relationship. Her current research focuses on the Soviet influence over Chinese planning system. Hou graduated from the Graduate School of Design, Harvard University with a Master of Design Studies in 2005 and a Doctor of Design in 2009. Prior to that, she received a Master of Engineering in Urban Planning and a B.UP from Tongji University.

Youwei XU is a Professor at the Department of History, Shanghai University. Xu is the Principle Investigator of 'Research on Small Third Front', a key project funded by National Social Science Foundation of China, and has published 7 books and more than 60 articles on the research on Small Third Front.

Zhiyong LIANG holds a Bachelor of Architecture from Shanghai Jiao Tong University, a Master of Science in Conservation from the University of Hong Kong and a Ph.D. in Architecture from the University of Hong Kong. His research interests include architectural and urban theory and history, Chinese urban housing, contemporary architecture and urban development in Chinese cities, community design and heritage conservation. His doctoral dissertation, titled "Housing Shanghai: the Evolution of the Workers' New Village, 1920s-2000s," investigates the historical development of the Workers' New Village in Shanghai and presents a local variation of Chinese work-unit housing in the Maoist era.

Jingru Cyan CHENG is a PhD by Design candidate at the Architectural Association and co-director of AA Wuhan Visiting School. Cheng's research interest lies in cross-scalar design issues in rural-urban regeneration at the levels of territory, settlement and home. Adopting research by design as the main working methodology, Cheng is especially interested in the relationships between built form and the socio-political formation of both the city and the countryside. Cheng has given presentations internationally and have established research and teaching collaborations between the UK and China through joint funding projects, visiting school programmes, academic symposia and so on. In addition, Cheng is the co-founder of ACROSS Architecture, an independent academic association consisting of Chinese AA alumni and current students.

Wansheng XIONG studied at Jilin University, University of Science and Technology of China and East China University of Science and Technology (ECUST). Xiong is currently a Professor of the Social and Public Administration School and Director of the China Urban-Rural Development Research Centre at ECUST. Xiong's research focuses on the relationship between rural development, Chinese culture and social theories.

Ning OU is a prolific artist, filmmaker, curator, editor, writer, and activist. He is the founder of the Bishan Commune and School of Tillers in Bishan Village in Anhui. Ou is reknown for his urban research projects, such as San Yuan Li, commissioned by the 50th Venice Biennale (2003), and Meishi Street (2006), commissioned by the Kulturstiftung des Bundes and premiered in MoMA New York. Amongst other, he was a curator of the Shenzhen & Hong Kong Bi-city Biennale of Urbanism and Architecture, the Chengdu Biennale, and Liu Xiaodong's Hotan Project. He is a frequent contributor to various magazines, books and has lectured around the world.

Platon Issaias is an architect, researcher and teacher. He currently is a Studio Master in the Projective Cities programme at the Architectural Association School of Architecture and a Tutor in City Design at the Royal College of Art. He studied architecture in Thessaloniki, holds an MSc in Advanced Architectural Design from Columbia University and a PhD from TU Delft. He has written and lectured extensively about Greek urbanisation and the politics of urban development. Recent publications include 'Domestic, Production and Debt: For a Theory of the Informal' (2016), 'Mechanism of Suspension: Infrastructure and Legislation for Free Camping' (2015), 'On Conflict, Generic and the Informal: The Greek Case' (2015), and 'The Absence of Plan as a Project: Notes on the Planning development of Modern Athens, 1830-2010' (2013).

Tarsha Finney is an architect and an urbanist, and Senior Research Tutor at the RCA where she is Programme Lead on the M.A in City Design. As Visiting Professor (2016-2017) in the School of Architecture at the RCA she led the Intergenerational Cities Research Cluster. She is a graduate of the AA, with a PhD from the University of Technology, Sydney. Her research and teaching is focused on questions of urban spatial reasoning and the socio-politics in housing and domesticity in city building and transformation. She is co-editing a special edition of the Journal of Architecture titled Architectural Type and the Discourse of Urbanism. Recent publications include 'Architectural Urbanism and Sporting Ecologies: Constituting the Scale of Neighbourhood' (2016); 'Urban Transformation, Spatial Instrumentality and Scale' (2016) and 'The Ground, Object and Strategy: Architectural Transformation in Housing Projects, New York City', (Journal of Architecture 2015). Finney is currently developing a publication on new co-operative housing projects in Europe looking at the conditions for experimentation in the spatial performance of housing at the scale of the dwelling unit and at that of the building block.

Yu CAO is the General Manager of China Fortune Properties, Senior Engineer, Registered Consultant, and Vice-Chairperson of Chartered Institute of Building (CIOB) – China. Cao has been engaged in major project management, urban regeneration and the development of new cities. He has actively promoted the transformation in development model for INESA industrial land. His vision is to lead China Fortune Properties to become a new-style property developer and operator, who provides integrated solutions for emerging industries.

Xia MO is the Director of the Urban Renewal Research Centre, East China Architectural Design & Research Institute (ECADI), with a PhD in urban and rural planning and design from Tongji University. Mo has regularly published in journals and presented at conferences. Recent publications include 'Spatial Development in Urban Regeneration in Shanghai' (Planner 2017) and 'From the Perspective of Conflicts: The Local Strategies in Urban Design' (forthcoming, supported by Shanghai Cultural Development Foundation).

Lu FENG is an architect, scholar and curator. He obtained a Ph.D from the Ph.D by design program, Department of Architecture, University of Sheffield in 2008. He is the founder of Wuyang Architecture, which is based in Shanghai and focuses on design practice with critical thinking and creation on architecture and urbanism. Apart from practice, Feng was the guest professor, Department of Architecture, Nanjing University, where he led a postgraduate design studio from 2009 to 2015. He is currently the guest design tutor, Department of Architecture, Shanghai Jiao Tong University, where he is teaching forth year urban design course.

Zhongnan YE is a national registered urban planner and currently the Vice Director of the Centre of Regional Development and Urban Design, East China Architectural Design & Research Institute (ECADI). His research interests are focused on urban design, smart city and big-data research. Ye has published more than 10 papers in academic journals and is currently conducting a part-time PhD research in urban planning at Tongji University.



---


论坛活动场地彩蛋:华鑫慧享中心 (大舍建筑事务所设计)
上海市徐汇区田林路142号 ,请穿过田林路142号入口进入园区内部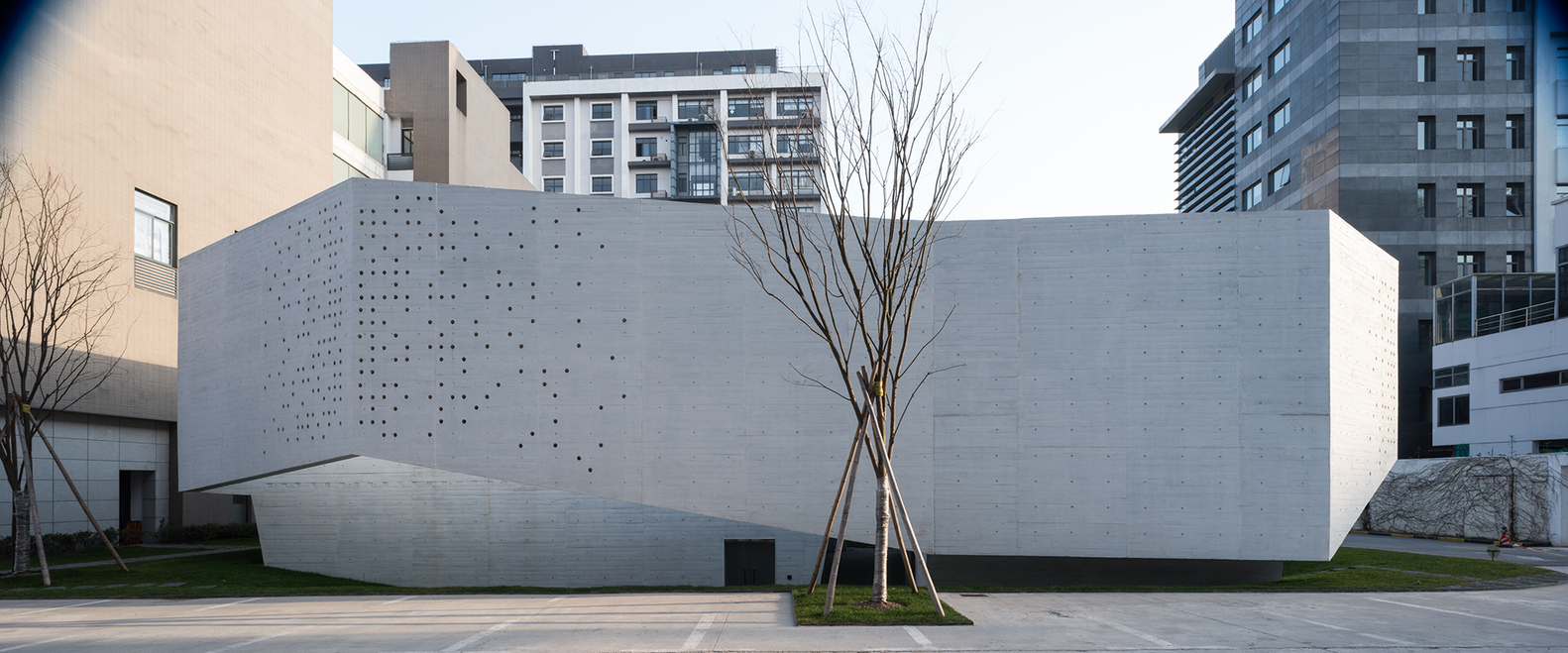 ---
Supporting Programmes:
AA Projective Cities - M.Phil in Architecture and Urban Design
Royal College of Art - MA City Design